Philip Kraske revisits the thriller with his first book since MOCKERY.

"Poignant, comic and tragic, its plot turning on one dime after another ..."
Did drug-trafficker Marcus Strenk escape from Minnesota's maximum-security prison during a blizzard - or die trying?

Deputy Marshal Henry Scott believes that Strenk found a way past the most effective security devices known to man and made it to freedom. But the search Scott puts into gear is quickly spiked by Alec Barkley, the very FBI agent who put Strenk in jail -- spiked, that is, until Strenk's cheery note from outside arrives at the prison. Barkley puts every available agent on the manhunt while Scott examines Barkley's espionage operation against Strenk's Mexican connections, and ends up stepping through the looking glass.

Set against the pewter gray of a Minnesota winter, Flight in February is peopled by the odd and the driven, by bumpkins and bitches, the lonely and the striving. It is a tour of humanity that follows a twisting, scribbling ribbon of plot.
ABOUT PHILIP KRASKE

Philip Kraske was born in Detroit, Michigan, in 1959 and grew up in Stillwater, Minnesota, just south of the villages that inspired Garrison Keillor's Lake Wobegon.


Kraske studied French, Spanish and Portuguese and received a degree in International Relations from the University of Minnesota. He has lived and worked in Quito, Ecuador, and travelled throughout South America and western Europe. He is currently at work on a novel set in Quito, untrod ground for English-language writers. He also teaches English and translates works by Spanish authors.


The growing divorce between Americans and their government is a constant theme in Kraske's first two novels. But beyond the themes these are thrillers packed with humor, terrific dialogue and wonderful characters.
REVIEWERS WRITE ABOUT FLIGHT IN FEBRUARY
FLIGHT IN FEBRUARY is now available in hardcopy at Amazon.com, for $20, at BarnesandNoble.com for $18, or by order from your favorite bookstore.
FLIGHT IN FEBRUARY is available for Kindle and other portable digital readers from Amazon.com for $6.99.
For the visually discriminating, the fully designed edition of FLIGHT IN FEBRUARY, including covers, is available in glorious full-colour PDF. Just click on the Encompass Digital Book logo below to go to PayPal and forward $3.99 to words@encompasseditions.com. On your PayPal form, indicate which title you're ordering and your digital copy will be on the way!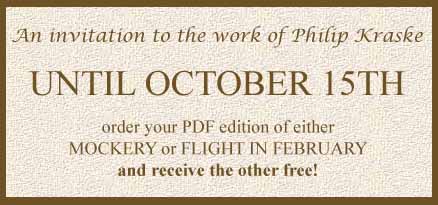 And remember ...
If you've arrived at this page from outside the Encompass Editions web site, click here to go to our home page and see what's on release this season.